Clinically proven TO HYDRATE
FSA/HSA Eligible Item
Let your health insurance cover the cost! You can purchase NormaLyte with your FSA (flexibe spending account) or your HSA (health savings account). Pssst... it covers shipping too!
Made Safe For You
See the difference.
No preservatives, no colors/dyes, no artificial sweeteners (in PURE). No gimmicks. Science backed results. Made to be safer for daily consumption using the WHO's formula for oral rehydration.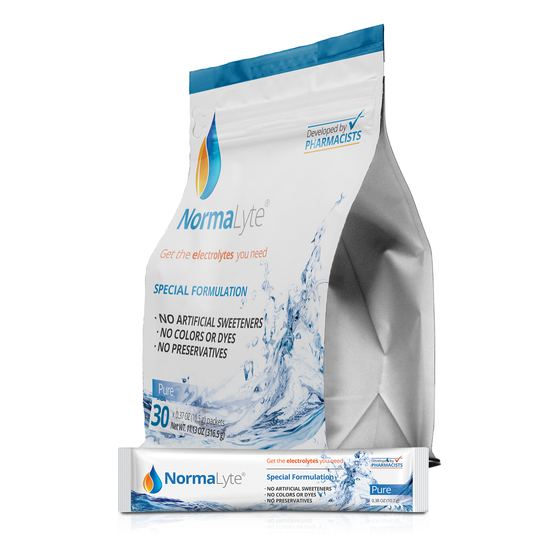 Find your normal
30 COUNT BAGS
No dyes. No preservatives. No artificial sweeteners (in PURE). Gluten free. Vegan. It was made with you in mind.
Shop Now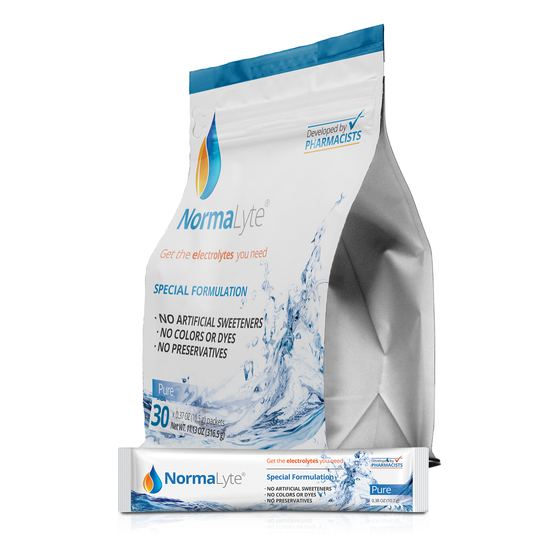 30 Sticks per Bag
NormaLyte PURE Hydration Bag
"Nothing more, Nothing less" is the core mantra of NormaLyte PURE. NormaLyte PURE was formulated by people with POTS for people with POTS. Not many products on the market can make this bold statement. Bulk discounts on 2 or more bags!
Shop Now - ($39.99)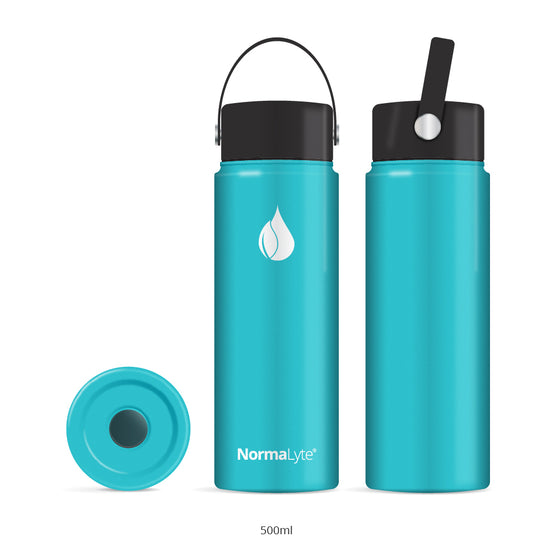 NormaLyte Swag
NormaLyte Water Bottle
Show your POTS pride with a new turquoise stainless steel water bottle. NormaLyte is best served chilled, and now you can keep it cold while on the move.
ADD TO CART
HOW DOES NORMALYTE WORK?
NormaLyte is specially formulated to utilize the Sodium/Glucose Co-Transport system in the body. 
NormaLyte Free Sample Programs
be informed
Nutrition Facts
Know what you're putting in your body so you can make the best decision for you.
Read More
finding your normal
Made For People With Dysautonomia
Isn't it time you found a normal again? NormaLyte was made for you. The person with POTS, MALS, and other chronic illnesses who just want to get back to normal.
REAL PEOPLE WHO'VE TRIED NORMALYTE
★★★★★

The best.

This is easily the best oral rehydration packet I've tried for my POTS/nOH, especially when the GI symptoms are flaring. It's an absolute necessity for me to keep this around, otherwise I'd be getting IV hydration much more often. Like many dysautonomia patients, I have a handful of other issues that make my digestive system extra picky, and this ingredient list works well for me, I keep coming back to it. Sometimes I might have 1-2 packets per day, other times less frequently, but I never want to run out. I actually kind of like the taste, and find it soothing.
★★★★★

This has made a huge difference to my energy and concentration.

I have POTS and this is definitely improving my quality of life. I'm recommending it to everyone in the POTS groups on Facebook.
★★★★★

A life saver.

NormaLyte PURE is my go-to rescue and daily maintenance treatment for dysautonomia. It honestly works better for me than IV's and is great to use in conjunction with my prescription meds. With all of my allergies and sensitivities, the PURE formula is perfect for me.
★★★★★

Perfect for dysautonomia.

My chronic medical condition requires me to intake far more electrolytes everyday than a healthy person, and I certainly don't want all the sugar with other so-called electrolyte drinks. I also like the gentle flavoring. It's like Pedialyte grape, but without aftertaste and I can store it as a powder instead of a big container.
★★★★★

Life Saver.

Finally a truly no flavor no artificial anything properly balanced ORS. These packets have helped me greatly in managing my Postural Orthostatic Tachycardia (POTS). Every other brand I tried was too acidic, taste nasty or had too much sugar. I highly recommend this ORS, especially for those who are sensitive to other ingredients.
★★★★★

High Quality Product.

I drink a NormaLyte PURE first thing each morning when I get up. I suffer with orthostatic hypotension. This help to replenish my system right away.
★★★★★

Feeling Better.

I was ecstatic after taking this. I feel better, my eyes are no longer irritated, my veins are easier to find for a Blood draw. Overall, I feel much better, more perky.
★★★★★

Lifesaver.

I am a physician and I also have ulcerative colitis. I had a total colectomy in 2013 due to severe illness. I am constantly battling dehydration. I only drink fluids with normalyte to help guard against getting dehydrated. I have water with normalyte in it with me 24 hours a day. It honestly has helped to keep me out of the emergency room many times. Thank you for such a great product!
★★★★★

Lifesaver for POTS/ Dysautonomia

These can help me avoid IV fluids at times with severe POTS I'm so glad I found them. And the customer service is wonderful they really seem to care about each person. It doesn't seem like a business, but friends. I can't say enough how helpful this product is for people with Dysautonomia.